The emerging musical depth of GARNET CROW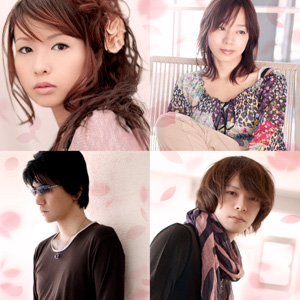 In 1999, four individuals possessing their own unique talent collaborated on a demo tape for singer Mai Kuraki. They soon came to the realization that they work well together and decided to form a band of their own. It was then that Yuri Nakamura, Hitoshi Okamoto, Nana Azuki, and Hirohito started GARNET CROW. I recently came across their music via YouTube and instantly fell in love with their sound. Yuri has pure, raw emotion in her singing that sincerely touches my heart; I've never appreciated a pop/rock/neo band like this before, so allow me to put GARNET CROW on spotlight at this moment.
The origin of the word "Garnet" emerged from the band's aspiration to achieve a musical depth of similarity to the depth of the color red often found in garnets. The word "Crow" was attached for its corresponding resonance. A further consideration in creating the band name was the enduring image left behind when it's translated to the eerie "scarlet crow" (深紅のカラス?) in Japanese.
The band released their debut EP "First Kaleidoscope" on December 4, 1999, and in 2000 released a total of six singles including the popular "Mysterious Eyes" and "Kimi no Uchi ni Tsuku Made Zutto Hashitte Yuku". The following year, GARNET CROW released their first full length studio album "First Soundscope". Despite garnering lots of interest in their homeland, the band did not perform live until 2002. The band received the opportunity to record the theme song for the hit anime "Detective Conan", which led to the release of the single "Yume Mita Ato De". The song reached number 6 on the Oricon singles chart, making it the band's first single to peek that high. Realizing their success and having a large fan base, the band decided to establish the fan club, G-Net.
Since their debut GARNET CROW has released a total of 32 singles, 8 studio albums, 2 mini albums, 2 compilations, and 9 tour DVDs. They have also formed a subgroup called MINIQLO, short for "mini GARNET CROW". MINIQLO's members are Yuri Nakamura and Hitoshi Okamoto. They have released a total of 2 mini albums, and can be seen performing at GARNET CROW's concerts.
This band in my opinion is every evolving and they have made a new fan out of me. I can't wait to hear their new music, until then check out my new favorites below: