Selena brands herself: good or bad idea?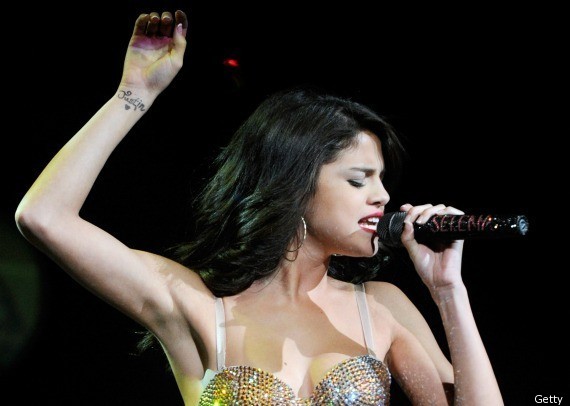 Selena Gomez certainly had people talking after she premiered a new tattoo at her Las Vegas concert over the weekend. What's the big deal? you might ask.  Well, apparently the pop singer inked Justin's name with a heart on her wrist. Now the real question is whether or not the tat is permanent or temporary. Hopefully it's fake and can be washed off because who in the 21st century and in their right mind would put a lover's name on their body. I mean, nothing's meant to last forever and bare in mind that this is a young couple (although that doesn't really matter) and if it so happens that they break up, she'll have a permanent tat to remind her forever. And Selena isn't that foolish. Besides, the tat looks like an amateur did it.
Branding yourself, in my opinion, is never a good idea. Just ask Angelina Jolie who had several procedures to remove her mistake over a period of time. It's almost like you're saying "this person owns me" that's why his/her name is on my body. Like cows being marked for ownership on a ranch. Why can't we just get simple tats like hearts to signify our love if we want to take that route. That should be as far as it goes when it comes to declaring your love for someone on your body. Still, I can't agree with the idea.
Selena might be young but I'm sure she's not that naïve. It's probably just a temporary symbol of her love; possibly something she drew herself, if she's that artistic (actually she's not). Either way, it's mind bottling to think she would get a permanent tattoo with Justin Bieber's name on her body. Despite of the negative stigma that holds (once you tattoo your lover's name on your body the relationship goes sour), I'm sure she just wanted to share with the world in another way of how much she loves the Bieb.
What do you think about Selena's tat, real or fake? And would you do that?